Spread Kindness with Student Health on Haven and Vicky Barone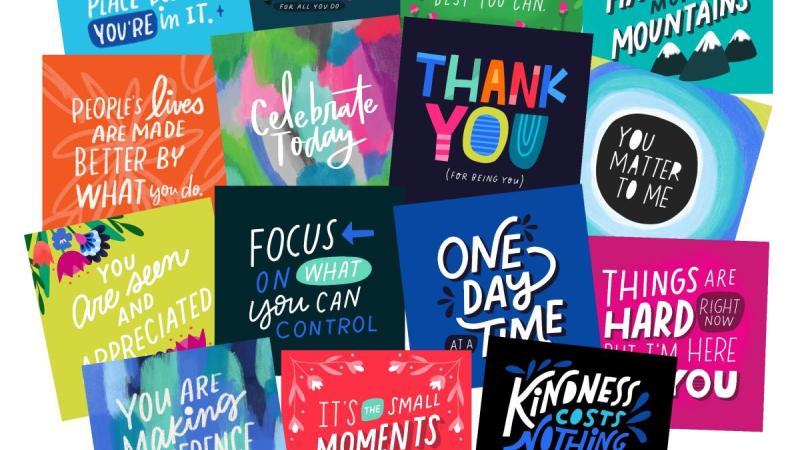 Random Act of Kindness Day is an annual day dedicated to encouraging kindness in the world, taking place this year on Thursday, February 17, 2022. To celebrate, CUIMC Student Health on Haven's Well-Being and Health Promotion team is distributing Kindness Cards with thoughtful and uplifting messages in collaboration with North Carolina-based artist Vicky Barone, known for her playful imagery, colorful, uplifting words and greeting cards sold worldwide. Kindness Cards were created using affirmations submitted by CUIMC students, illustrated through vibrant palettes and geometric patterns using Vicky's signature creative process. (Photo and video courtesy of artist Vicky Barone).
Be on the lookout for the Kindness Cards on our campus February 17th—take what you need and share some much-needed kindness to other members of our CUIMC community! Locations include:
Georgian Residence lobby
Vagelos Education Center
Hammer Health Sciences Center
Tower 2 front desk
Tower 1 security desk
Haven Plaza (weather dependent)
Columbia University School of Nursing lobby
Allan Rosenfield Building, 10th floor student lounge
Office of Housing Services, 50 Haven Avenue
Vagelos College of Physicians and Surgeons Building, 1st Floor VP&S student lounge
CUIMC Campus Bookstore
William Black Building Lobby
Subscribe to our weekly newsletter to stay updated on further details. Email studentwellness@cumc.columba.edu with questions.