Crafternoons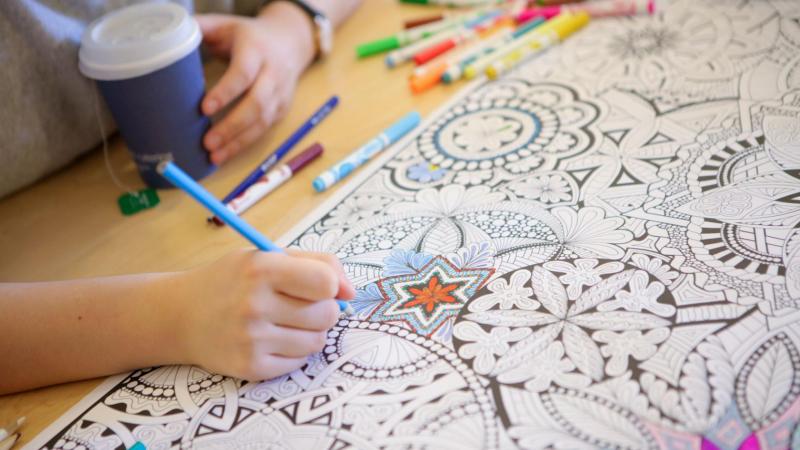 Crafternoons offer a space to channel your inner child, find your flow, work with your hands, and spend some downtime with CUIMC students across campus. We provide supplies and instructions—you provide the creative energy! Get your DIY on at one (or all!) of our Crafternoons. Be on the look out for a Fall 2022 return of Crafternoons! Get updates by subscribing to the Well-Being and Health Promotion Newsletter. 
Some Crafternoons we've had in the past: 
Time to get green! Pot a plant, give it some love, and watch it grow all year round.
Bedazzle a Tupperware container to fill with any combination of party mix, nuts, and dried fruit. Why stop the fun there? Refill the container all year long for a convenient and delicious on-the-go treat.
What's Halloween without some Jack O' lanterns? Decorate a mini-pumpkin using feathers, Sharpies, stickers, or (our favorite) googly eyes. It's a ghoulishly great time!
As the leaves start to fall, a warm cup of your favorite beverage can be really comforting. Make a resuable felt cup sleeve for your hot drink of choice, and get wrapped up in sweater weather!
Keep your hands and pockets warm as the chill sets in—these rice-filled handwarmers also make great gifts for the holidays.
Bring back some earth and green into your life with a hardy, NYC-apartment-approved air plant. These plants don't need soil to grow and minimal water, just a mason jar and some creativity!
Choose an undergarment and pick clever iron-on sayings and images to create a body-affirming pillowcase. Plenty of designs to please all.
As the cold starts to thaw, join us for a free-for-all afternoon of creativity. We'll provide all the supplies to inspire the crafter in you!
Got a Great Craft Idea?
Have a stellar idea for a craft, or want to help us lead a Crafternoon? We also occasionally partner with student groups on Crafternoons! Send us an email at studentwellbeing@cumc.columbia.edu.